The Carpet Guys have been in the flooring business for over 10 years. As experts in the field, we frequently get asked all types of flooring questions. But the things people don't ask are often the most important questions that need answers. We want to help you understand if bed bugs can live in carpet.
What is a Bed Bug?
A bed bug is a small, flat, reddish-brown insect that feeds on human and animal blood.  They may get their name because they tend to hide in crevices of bed frames, box springs, headboards, etc.  These tiny critters tend to come out only to feed.  They move slowly so they need to stay near their food source.  When they feed, they can leave a small, itchy bump like a mosquito bite.
How to Tell if You Have Bed Bugs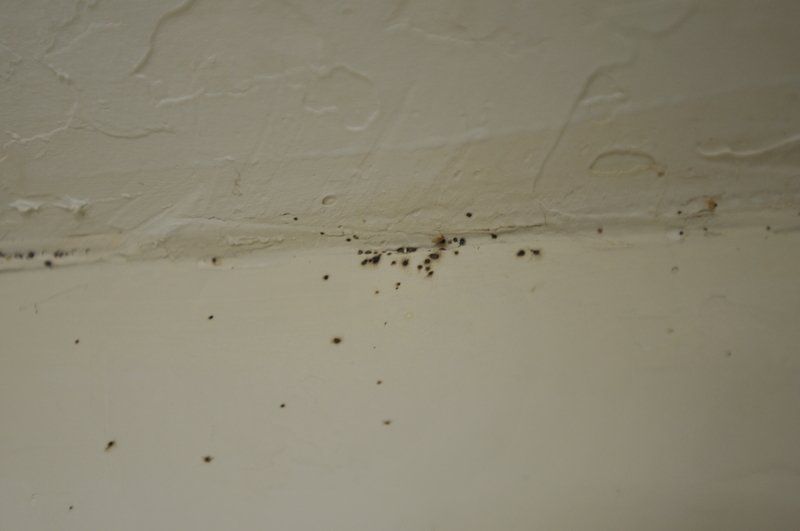 As expected, because they're so small, it's very difficult to figure out if you have bed bugs if you're not a professional.  The most obvious sign is the marks they leave on the persons body after feeding.  Often it's a line or cluster of small, itchy bumps on the skin.  Next, you can look for excrement left behind.  These would be tiny dark spots that look like dried blood on sheets, the bed frame, flooring, etc. (see image).
Can Bed Bugs Live in my Carpet?
Unfortunately, bed bugs can live in your carpet, especially if it is a shaggy style.  Since they are approximately the size of an apple seed, it's easy for them to tuck between the fibers. If you have hard surface flooring installed in your home make sure you use rugs that are washable in hot water.  If you prefer carpet, get a dense, tightly woven carpet style.  It will be more difficult for insects to get between the fibers.  To learn more about carpet density check out our blog "How to Choose a Cozy Carpet".  And be sure to vacuum regularly with a HEPA filtered vacuum.
If you suspect you may already have an infestation, we recommend contacting a local pest control company to exterminate professionally before having your flooring replaced.  They will give you a certificate that you can provide to your flooring sales representative.  And we carry all the best hard surface (laminate, LVP/LVT, sheet vinyl, engineered hardwood and hardwood) and high-density carpets to help protect your family.
If you want to be proactive and have your flooring replaced with a type of hard surface flooring or tightly woven carpet, The Carpet Guys have a wide range of options to choose from.  We can send a Design Consultant to your home to help you decide which flooring option would be best for your home and budget.  Call now 855-4-MY-GUYS (855-469-4897) or fill out our Free In-Home Estimate form and we will get your new flooring installed!