Gray walls are the most popular paint color in today's home improvement market. Gray is categorized as a moody and emotionless color, yet it sports a sophisticated and formal look that homeowners have fallen in love with.
If the walls of your home have embraced gray as its hue, you're in luck. Matching carpet colors with gray walls is quite easy, and there's a wide array of tinctures to choose from.
Selecting Carpet to Match Gray Walls
Carpet and wall color combinations, especially with gray, all depends on the shade of your walls. In other words, it will vary if you have light gray or dark gray paint.
If you have light gray walls, a medium or dark-colored carpet will make the room cozy, such as:
Blue
Dark Gray
Darker Fleck
If you have dark gray walls, a lighter colored floor will open up the room. Your carpet color combinations will look best in the following:
Cream
White
Light Multi-Toned
The best thing about gray is that it gives you a lot of freedom to pick and choose what you want. Feel free to stay safe with a neutral combination or be bold and select a color of carpet that's more distinctive. Whatever carpet you choose, we know it will look good.
Most Notable Carpets that Work with Gray
To make choosing the perfect carpet color that goes with gray walls easier, we put together a small list of products we have seen work well in homes. Feel free to use our choices as some inspiration for your upcoming flooring project!
Phenix PH018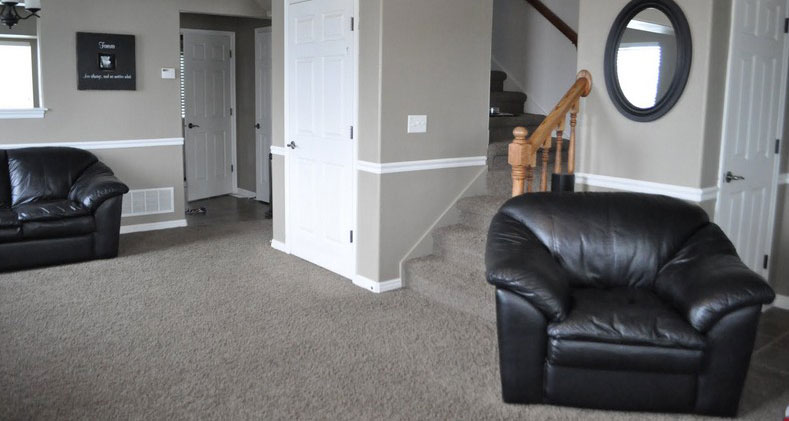 The gray tones that Phenix PH018 comes in are immaculate. The colors Retreat, Storm, and Tug-of-war will make a great finishing statement to any room it's installed in. Plus, it comes with options that can match both light and dark gray walls.
DreamWeaver – Harbor Town
There are a lot of nice DreamWeaver carpet options, but Harbor Town is one of our favorites. Harbor Town is a diamond-patterned carpet that comes in beautiful gray and beige tones, making it a perfect fit for any situation. Patterned carpet adds much-needed texture to standard gray walls. Make sure to check out the colors Mineral, Silver Birch, and Bayside.
Mohawk – Posh Appeal
Mohawk has always had a great selection of patterned carpets in their arsenal, but Posh Appeal takes the cake. The intricate designs allow the carpet to fit both formal and casual settings, and the color scheme will match perfectly with gray walls. Be sure to ask about these carpet colors, Legend and Canvas.
If you would like to see how these carpet types will look in your home, The Carpet Guys Design Consultant can bring our showroom of samples to your door. Be Wise, call The Carpet Guys, and get a free in-home carpet estimate set up today. You'll find these carpet styles plus many more at affordable prices.