If you're a trend-setter, always ahead of the curve, The Carpet Guys want to share with you the Color of the Year for 2020. We have compiled several decorating inspirations for you to progress into the coming decade.
Pantone Color of the Year 2020
Pantone is the expert in all thing's "color". Each year, industries around the world anxiously await the color that will be picked to be Pantone's color choice. Due to international uncertainty, coming political changes, and a constant feeling of instability, Pantone chose a color that epitomizes calm, connectedness and security. Classic Blue! Best communicated in "Pantone chooses a classic for its 2020 Color of the Year" blog, by Kirsi Goldynia of CNN, New York:
"True to its name, Classic Blue can be regal, restrained and boundless. But it can also be edgy — even anomalous — utilizing a variety of tonalities, materials, and prints. (Think a new-age, Classic Blue concept car.)"
Expect to see plenty of Classic Blue elements in fashion, paper products, flooring, and household goods.
Certainly, you can stylize your home to include the feelings that Classic Blue invokes, try these simple tips:
First, try adding a beautiful, blue carpet to your neutral room. Creating your own cottage-by-the-sea for everyday living with this Mohawk, Homefront III, Royal carpet.
Another idea is to paint a Classic Blue accent wall to a room with a light or neutral flooring. For example, use this waterproof, COREtec, luxury vinyl tile in Dorado.
Next, try highlighting your Classic Blue perception with pillows, candles or other household essentials.
Benjamin Moore's Color of the Year 2020
Because paint and flooring are staples to any home renovation, we wanted to include Benjamin Moore's Color of the Year "First Light," a soft blush that is light and airy. According to Benjamin Moore regarding their Color Trends 2020 palette, "…delivers modern paint color pairings that combine optimism with understatement, a timeless way to lighten up." Another company trying to invoke peace of mind for the coming year.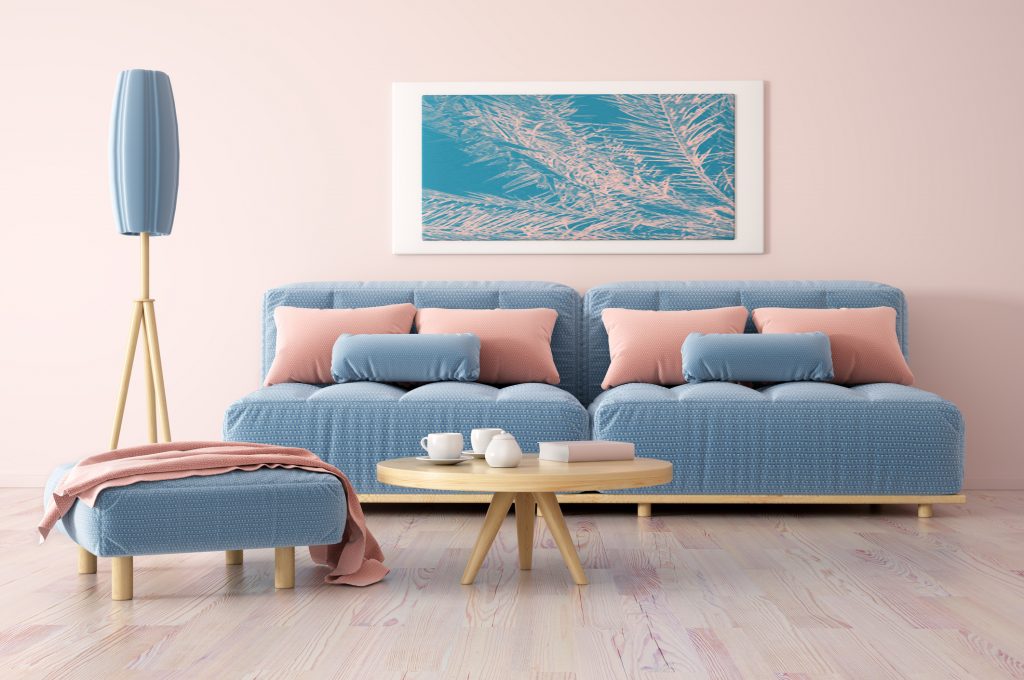 The Carpet Guys can enhance your flooring to go with these beautiful, new color schemes. Check out our other 2020 Trends in Flooring blog for more inspiration. Of course, our experienced Design Consultants have appointments 7 days a week and in the evenings. We will come to your home to accommodate your busy schedule. Be Wise, Call The Carpet Guys at 855-4-MY-GUYS (855-469-4897) or fill out our Free In-Home Estimate form.