If you know The Carpet Guys, then you've most likely heard about the free carpet estimates we provide our customers.
We believe that an in-home estimate is the best way to shop for new flooring, and for good reason. Showrooms are great, but they don't service the consumer as an in-home estimate does.

Free Carpet Estimate vs. Showroom Visitation
In an earlier post, we talked about how shopping at home and getting a free estimate can save you more money and time.
Setting up a showroom visitation can take much longer than an estimate will. It also makes it trickier for the company to identify your exact needs.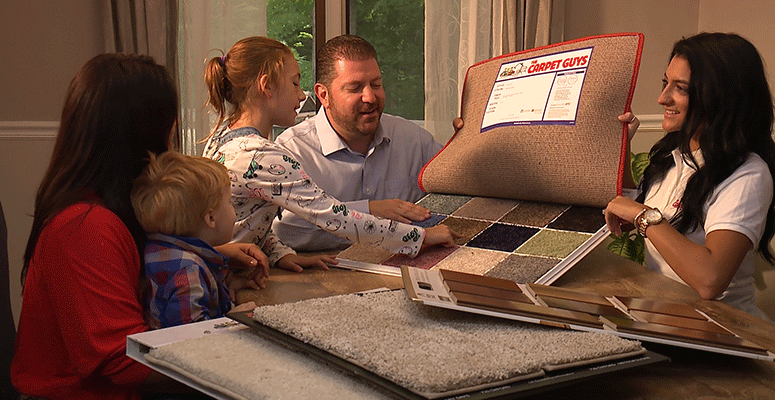 While there's nothing wrong with wanting to see a showroom, the benefits between the two options are much different. Booking a free in-home estimate provides you with the following:
Precise measurements of the rooms you're renovating are taken
Products are seen under your home's lighting
Pricing and discounts are discussed privately
Complimentary and accurate decorating advice is given
Installation dates are set up the day of your estimate
It's much easier finding the perfect product for your home when you can see it there. Buying flooring already seems like a difficult process, so make it easier on yourself with a free carpet estimate.
Get The Carpet Guys Experience
By booking an estimate with The Carpet Guys, you won't be working with some pushy salesman from a national flooring chain.
Our design consultants are professional and easy to work with. They won't rush you to make a decision, so take the time you need to decide.
During no-obligation carpet estimates, expect the following:
On the date of your estimate, one of our expert design consultants will come out to your home with a wide variety of samples
Each measurement is taken accurately for every room you plan on renovating
They will sit down with you and help you select the type of flooring that best fits your home
Once you make a selection, they will get you the best price available and schedule an install date
As a family-owned company in Michigan, we believe that the finances spent in this state should stay here. That's why we provide you with the best carpet installation service possible. The national chains and big box stores are fine, but there is more to gain with local Michigan businesses.
With The Carpet Guys, you'll get more than just a carpet installation. We will also do the following for you:
Remove the old flooring and place it outside by the curb
Provide complimentary decorating advice
Next-day installation may be available for your project
Don't wait any longer to get your flooring replaced. Why wait when you can get it done right now?
Book your free estimate with us today. We look forward to servicing you soon.