Men and women alike are looking for great man cave ideas. It's important for everyone in the home to have a space they can retreat to for comfort and relaxation. Even if it's just to watch different T.V. shows, a man cave is a great idea!
There are many ways to trick out a man cave, and designing the space is half the fun of having it. Depending on your style preferences, designing a man cave can come with endless possibilities.
Choose a Man Cave Theme
Before you begin doing any renovations, make sure to map out your space completely. You want to make sure you know what you're working with before starting. For a small space, decide what the man cave will be used for. If it's for gaming, space for a comfy gaming recliner and screen are top priority. Or if you want space to watch sports with friends, seating will be a priority because flat screens can be mounted on a wall just about anywhere. With a large space, the skies the limit.
Here are a few man cave theme ideas you can use for your own or to spark inspiration:
Vintage auto garage
Movie theater
All or a specific sport theme
Hunting
Casino
Video gamer
Preparing the Space for the Man Cave
Once the theme has been chosen, prepping the space can begin. This is where you need to think about the look of the space itself or anything that needs to be done to the space. Ask yourself these questions before you make any decorative purchases:
Do you need to waterproof the area (mainly pertains to basements or sheds)?
Do you need new carpet or flooring?
Are the walls going to be painted or have a different covering?
What's my budget?
Before decorating, we recommend Basement Waterproofing of Michigan for all your waterproofing needs. Remember, this isn't just for dealing with that musty odor, it's important to have proper moisture control for your health. Check out their Healthy Basement or Crawl Space Certificate for more information.
For walls and painting, we recommend 1-800-PAINTERS. They have some of the best painters in the business and can access your needs and work within your budget.
Let's Get Decorating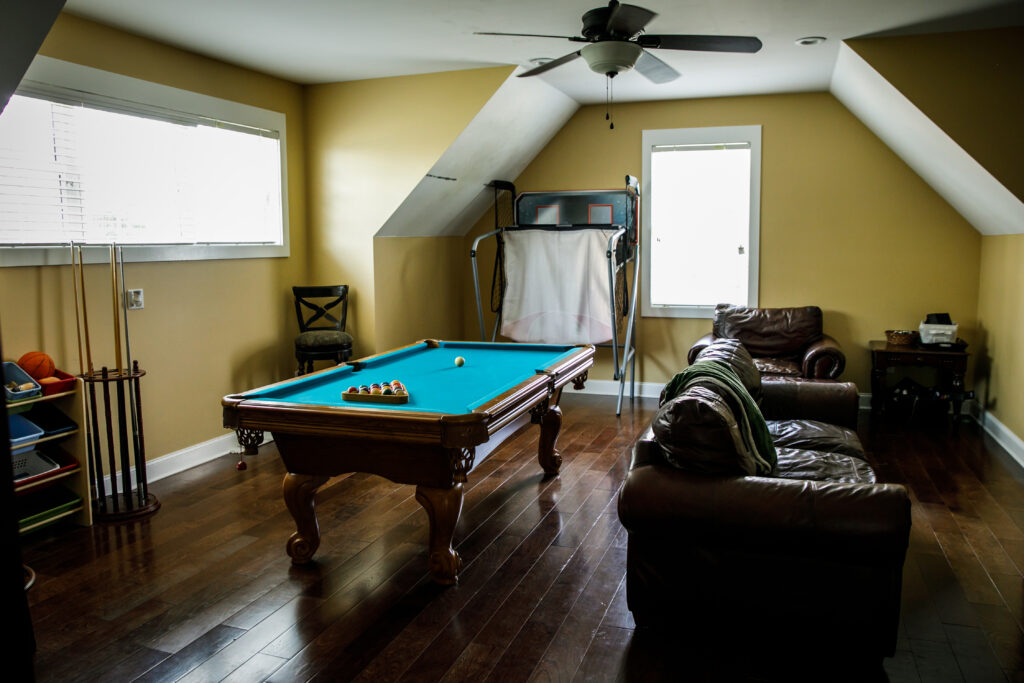 Once the space is prepared and ready to go, it is time to get creative. To help give you an idea of what all man caves should have, take a look at these popular suggestions:
A Sign – Every man cave needs a sign letting people know that they are entering the man cave. Proclaim your space proudly, gentlemen.
Home Bar – A man cave without an area to hang out and have a drink simply does not feel complete. With a bar area, you can store all kinds of food and drink. Explore the options of custom fridges and kegs to enhance your bar. You can also easily put in a fountain for soda or a fun slushy machine.
Custom Table – Add a custom table to show off your personal style and taste. A Nintendo controller table is a great example for the gamer. Or a glass top storage table to show off your sport paraphernalia.
A Pool Table or Pinball Machine – Definitely a classic piece in many man cave scenarios. Everyone loves a good game of pool, and the table can be custom made to fit your liking. Or find an old pinball machine that goes with your theme.
Projector – If your television isn't big enough, a projector is what you need. Make your own theater area for your sport watching or gaming by adding a screen or using white walls.
When it all comes down to it, the man cave is your space, so personalize it in the way that fits you best.
Does the Man Cave Need New Flooring
When it comes to man cave carpet and flooring for your special space, we have you covered. We have many styles and products to choose from. If you're looking for a rustic hard surface that can hold up to your teams big win, we have lots of luxury vinyl and laminate. Maybe you want something a bit more cozy? Undoubtedly, our carpets installers are the best in the business and can install our top of the line memory foam pad under your carpet of choice. Book a free in-home estimate with The Carpet Guys (855-4-MY-GUYS) to see the best quality products for a price that fits your budget. Our complimentary Design Consultant can help bring all your man cave idea's to light!