By lowering your energy bill payments this winter, imagine all of the family events and vacations you could save up for. The possibilities are endless.
There are great ways to save big and manage your heating bill wisely, and we're here to give you some helpful tips.
Professional Tips from Consumer's Energy
We had the opportunity to get a couple resources from Consumer's Energy, and they have some awesome tips to offer homeowners. Here are a couple tricks they recommend to lower your heating bill payments:
Taking showers instead of baths will lower the amount of hot water you'll use
Thawing and cutting your food up before heating will cook it faster, lowering the amount of cooking time
Use cold water to wash your clothes to save on water heating
Drapes with an insulated liner can cut heat loss from windows in half
Covering your floors with carpet and padding can create extra insulation
Consumer's Energy has an awesome brochure covering many more tips on how to lower your heating bill, so check that out on their website if you are interested.
Extra Insight from Energy. Gov
Along with the fantastic advice we got from Consumer's Energy, we gained some extra information from Energy.gov as well. For some extra insight on these ideas listed below, Energy.gov has an extensive list of fall and winter energy saving tips. It is full of information you will find useful.
Patch Up Those Windows
Putting a plastic film or a clear plastic sheet over your windows will keep cool air out and lessen the work your heating unit has to do.
Any tight-fitting plastic wrap will do. You can also use a blow dryer on the plastic wrap to help the plastic stick tightly to the frame.
Cozy Up with New Carpet

Unlike hard flooring surfaces, carpet offers a natural warmth and comfort underfoot. Carpet and padding also provide a layer of insulation to your rooms, helping hold heat in.  By having new carpeting installed, you can actually keep warm without raising your heating bill.
If new carpet is something you want to explore, book a free carpet estimate with The Carpet Guys. We can help keep you warm.
Bring on the Blankets
Being wrapped up in a cozy blanket is a lovely way to keep warm, and it can also reduce the amount of heating you'll need to use.
Put on one of your favorite long sleeves, wrap up in a blanket, and you'll be all set. The best thing about blankets is that if one doesn't work, you can just grab another.
Find and Seal Air Leaks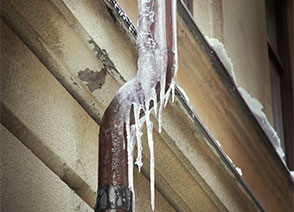 Cut-throughs for piping are typical spots where cold air can seep in easily. Take some caulk or a weathering strip and apply them to the leaks to reduce the airflow.
Make energy payments a little easier using these tips today. By utilizing this advice, your bill may come out a little less expensive than you'd think. Have a warm and cozy winter this year.
If you're looking for more tips and home improvement advice, check out our other Carpet Guys blogs. If you have questions about how to help insulate your floors to stay warm, Be Wise, Call The Carpet Guys at 855-4-MY-GUYS (855-469-4897) or fill out our Complimentary In-Home Estimate form and we can send a knowledgeable flooring consultant to your home.