Mohawk and Shaw are two of the biggest names in the flooring industry, offering the same level of quality and appeal. But, the question that always comes up is, "which one to choose?"
If you're struggling to choose between Mohawk vs Shaw carpet, here's a little insight.
The Carpet Guys carries a huge selection of both Mohawk and Shaw flooring, and we have been doing so for quite some time. Due to this, we have a pretty good idea of how well Mohawk and Shaw products will perform in a home.
Considering the fact that Mohawk and Shaw carpeting are equal in comparison and capacity, there are very slight differences when it comes to the types of flooring products they produce.
About Mohawk Carpet
Mohawk flooring is one of the oldest and most trusted carpet manufacturers and is a world leading producer of some of the most exquisite and luxurious flooring in the industry. All of their flooring products are top notch, and they have created some of the most popular lines of carpet including:
Mohawk SmartStrand Forever Clean: With a built-in stain and soil resistant finish that never wears off, this great style is soft, durable, and eco-friendly. It also sports the most popular Mohawk carpet colors up to date.
Mohawk SmartStrand Silk:

Offering maximum softness and superior durability, this style is practical and perfect for every part of the house. Indulge by walking barefoot on this cloud of cozy fluff.

Mohawk Forever Fresh Ultrasoft:

The best odor resistant carpet available, this style's built-in core fights pet and other lingering smells which carpet tends to trap into its fibers. It is soft, durable, and pet-friendly.  
With over 130 years of experience and flooring developments, Mohawk brings to you carpeting with many benefits:
High quality and long lasting

Stain and spill resistant

Adaptable to any environment and lifestyle

Can withstand high foot traffic

Soft and intimate style selections

Budget friendly options available
We guarantee you'll love Mohawk carpet products and what they bring to the table.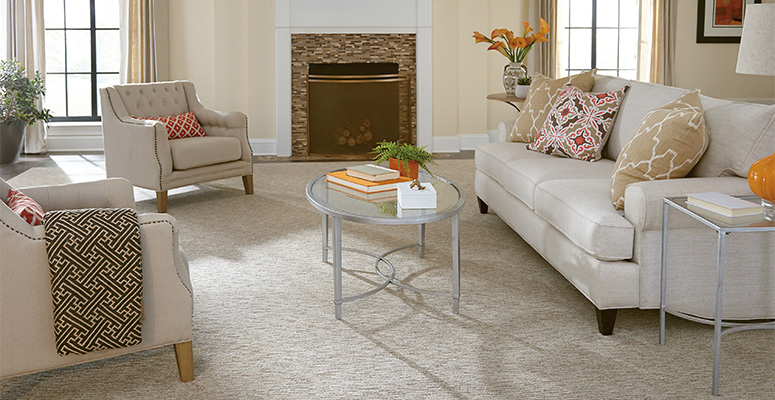 About Shaw Carpet
Founded in 1946, Shaw flooring is the largest carpet manufacturer in the world today. A leading name in residential carpet and flooring with the ability to bend in every budget direction, they offer the most economical and practical floor coverings available on the market.
Shaw has created well-known lines of carpet including:
Shaw Ansonylon:

 Known for its great retention qualities, this style will not mat or flatten. It is soft, stain resistant, and durable; can withstand even the busiest of households. Long Lasting.
Shaw Simply Yours: Boasts a R2X stain and spill protection in almost every design, this elegant and modest style features durability and is proven to be a kid and pet-friendly carpet.
Shaw Enduranylon:

Economical in many ways, this style is insulating and helps retain temperatures from penetrating through the floors. Not only does it feature a stain-fighting technology, it is stylish and durable.  

 

 
There's a huge variety of Shaw carpet styles in a wide range of textures, color variations, and styles to choose from, each with advantages like:
Ability to work with any budget

Long lasting and durable

Made to tolerate excessive foot traffic

Built-in soil, stain, and odor proof technology

Available in a large selection great for busy households and specific lifestyles
Mohawk vs Shaw carpet, What is Better?
With either Shaw or Mohawk flooring, one cannot go wrong. They are essentially one in the same, offering some of the same products with equal benefits. They may not have the lowest carpet prices out there, but the quality and performance of the flooring will be worth every penny spent.
The only difference is Mohawk does more of the high-end style of carpeting, and Shaw does quite a bit of budget oriented selections.
If you'd like to explore multiple Mohawk carpet samples or Shaw carpet samples, there's only one thing left to do.
Book a Free Carpet Consultation with Us!
Looking to buy new carpet? The Carpet Guys offers over 30 years of experience and knowledge in the world's largest and best carpet manufacturers.
We carry many styles and selections of carpet to meet every expectation. Our professional design consultants can help you choose the best Mohawk or Shaw carpet for your lifestyle needs.
On top of that, we offer multiple benefits to our customers including:
Expert service and craftsmanship
Huge discounts on quality carpet products
Next-day installation availability
Interest-free carpet financing plans
Appointment and installation dates available all week long
Free decorating advice
Top quality Mohawk and Shaw carpeting
Much more!
Book your free in-home carpet estimate today and get all the carpet you need from The Carpet Guys today. We guarantee you'll love the products we offer, but your installation even more.
We look forward to serving you.