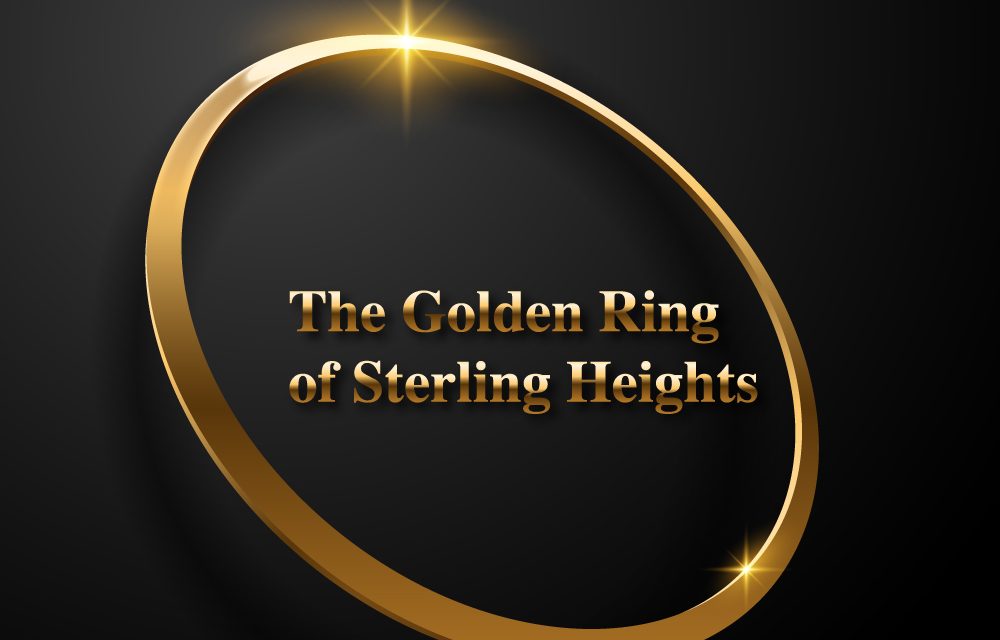 Joe Zago of The Carpet Guys prides himself on being a local businessman.  He believes in giving back to his customer's supportive communities.  It means so much to him when there are national or global spotlights shining upon his home state of Michigan and any of its beautiful cities.  Sterling Heights is having one of those glorious moments now because Sonic came to visit The Golden Ring.
The Ring is known for other names
In January 2019, the City of Sterling Heights installed a giant golden ring as a landscape improvement project. Mayor Michael Taylor's goal is to bring notoriety and new business to the City of Sterling Heights.  A lofty goal when it's own residents dub the art installation "The Golden B***hole of Macomb County".  It received its official name "The Halo" by requesting the general public to submit recommendations.  That was the first interaction The Carpet Guys had with this now iconic shape.
Mayor Taylor is getting exactly the fame he was hoping for with their recent visit from the celebrity Sonic The Hedgehog.  Sonic came to have his picture taken at The Halo with the city's Census 2020 mascot "Sterling B. Counted".  Both are promoting their respective fields.  Sonic has a new movie that premiers February 14th, 2020. Sterling wants all Sterling Heights residents to remember to fill out their census information.
Joe Zago has a personal investment
Zago feels invested in both.  His son loves Sonic but more importantly, he grew up in Sterling Heights, Michigan.  Joe's father was a teacher at the local school for most of Joe's life. His mother worked with and taught visually impaired children in Sterling Heights.  He has a childhood of memories filled with special Sterling Heights moments. Zago hopes this helps elevate the city's status and plans to take his son to see The Halo after they see the movie.  In their recent ring endeavors, Mayor Taylor personally thanked Joe Zago for promoting the voting for The Halo's naming process.
Joe Zago and The Carpet Guys want to remind all Michigan residents to keep our funds local.  Buy products from local businesses, not national chains or big box stores. If you're interested in doing business with the locally-owned and operated Carpet Guys, Be Wise and call us at 855-4-MY-GUYS (855-469-4897) or check out our website www.carpetguys.com.