In the past year, we have spent more time at home than we have in decades.  The flooring in your home needs to withstand the impact from additional wear and tear.  The rooms most often used during the pandemic were kitchens and bathrooms.  So, one of our most asked questions now is which laminate flooring is best for kitchens?
Check out this quick video by Joe Zago, of The Carpet Guys. Which laminate flooring is best?
Do you have kids or pets?
Mohawks RevWood Plus laminate flooring is an excellent durable product if you have kids or pets!  Hardwood, though beautiful, scratches easily.  And due to moisture levels, carpet is not practical for kitchen use.  Laminate flooring is a scratch-resistant and dent resistant product.  It can withstand your son throwing the ball into the kitchen just so he can watch Fido slide across the floor.  Don't forget! If the kids "accidentally" color on your new laminate with a permanent marker, it wipes off easily with a bit of cleaner.
Can't stand the heat? Then get out of the kitchen!
Hardwood flooring is…wood!  But laminate will withstand higher than normal temperatures. RevWood Plus is flame retardant.  This makes it a unique solution to use in your kitchen where heat from a running refrigerator or frequent stove use are a daily occurrence. Also, if your laminate is installed properly, it will allow for the expansion and contraction that happens with warm to cold climate changes.  Additionally, if your kitchen is full of windows, have confidence that your RevWood Plus laminate will not fade in the sunlight like most other floor coverings will.
Open the flood gates in your kitchen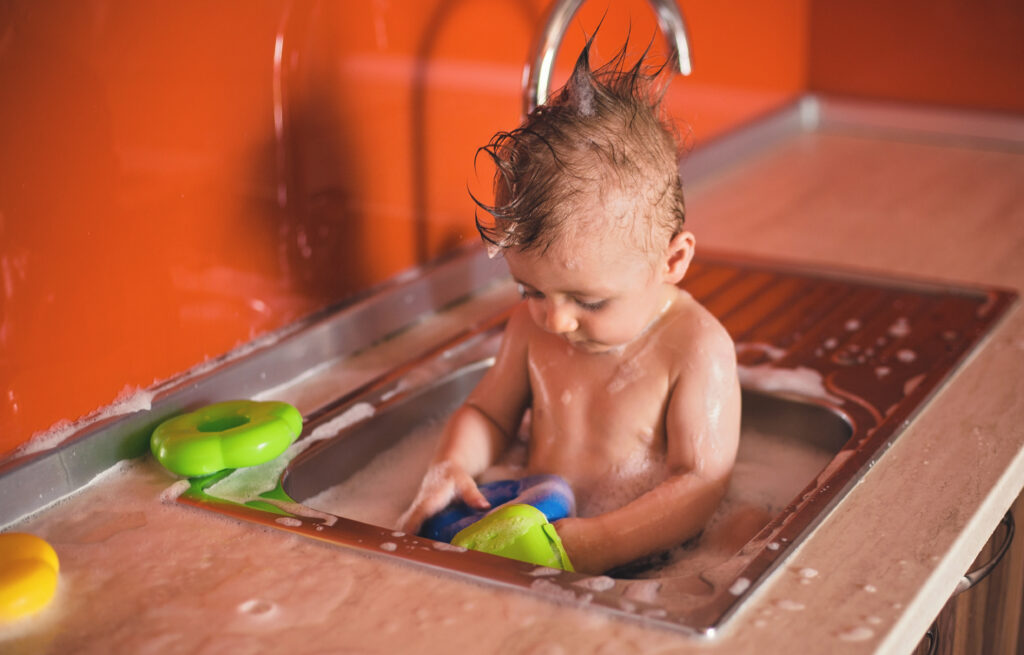 Another exceptional quality of RevWood Plus Laminate is that it's water resistant.  In a kitchen, where you're washing your hands constantly, cooking, carrying pots of water, running a dishwasher, etc., you want something on your floors that will repel water damage.  Hardwood absorbs water and begins to buckle. Carpet is not recommended for high humidity levels. Laminate flooring cleans easily and holds up in most wet situations.
If you're looking for the best laminate for your kitchen, call The Carpet Guys!  We guarantee our installation for the life of your flooring.  Call 855-4-MY-GUYS (855-469-4897) or set up a Free In-Home Estimate today.  One of our experienced Design Consultants will bring our showroom of Mohawk's, American-made, RevWood Plus laminate to your home so you can see which color and style goes well with your furniture and lighting.  Don't replace your floors every 3 years.  Get it done right, with the best product, and do it once!