Kids are tough on the carpet; it's a proven fact. As a parent, finding the perfect kids carpet is imperative to keep your home looking it's best. MUCH easier said than done, right?
Why spend the time looking for the best carpet for children when we have done it for you?
Take a look.
Is Carpet a Good Idea for Kids Rooms?
Absolutely. Carpeting makes a great flooring choice in any room, especially for kids. Here are a few reasons why you should consider installing carpet in your child's bedroom:
Safety – Falling on a hard-surface floor can be much more damaging that landing on carpet. Carpeting softens slips and falls, reducing the risk of a trip to the emergency room.
Noise Reduction – Walking on carpeting allows you to check on your sleeping child without the clicks and clacks from your shoes.
Scratch Proof – Children's toys can scratch up hard-surface flooring. With carpet, scratching is a thing of the past.
Warmth – Carpeting is a warm and inviting flooring material to lounge on. This makes carpet perfect for young kids that like to play and lie down on the floor.
Worried about staining and soiling? Don't be. The most recommended materials for the best carpet for kids are stain and soil resistant. We will get to that shortly.
PRO TIP: Carpet manufacturers recommend you get your carpets cleaned every 12 to 18 months. This will help maintain your warranty as well as keep your new carpeting in good shape.
So what is the Best Carpet for Children's Rooms?
There's a lot of different styles out there, but we recommend a P.E.T. Polyester Frieze Carpet as the best carpeting for children's rooms.
Polyester fiber is a durable and long lasting material that performs well in child settings. The fibers resist staining and soiling and will make a great choice for the room.
P.E.T. has a wide variety of colors and styles to choose from, allowing it to match almost any decorations you have. Selecting a flecked frieze will further aid in hiding any stains or dirt that gets past your guard. Flecked colors also add a nice casual look and feel to the room.
One of the more favorable aspects about polyester is the price tag. Polyester carpet is relatively inexpensive, so you can get the style of carpeting you desire with prices that don't break the bank.
Since kids rooms aren't necessarily the most active room in the home, your carpeting will last much longer than it would in a high-traffic area. Combined with frequent vacuuming and a good cleaning, your carpeting will look great for years to come.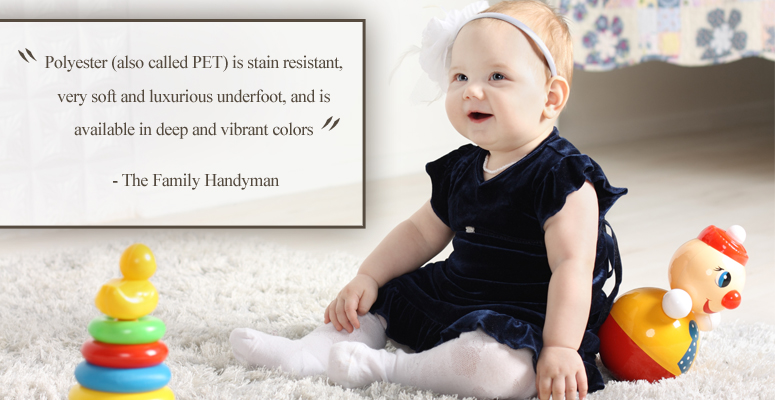 PRO TIP: Try not to default to Berber Carpet just because it is known to be hard-wearing. Many people agree that berber is not the best carpet for kid's rooms due to possible snagging and maintenance difficulties.
Get the Carpeting you need Today
Well, what are you waiting for? Pick up that phone and give us a call!
With The Carpet Guys at your side, finding the perfect carpet for your kid's room is a cinch. We make it so easy that your child could do it on their own.
By booking a carpet estimate with us, you gain great benefits including:
The best carpet and flooring prices on the market
Old flooring rip-up free of charge
Free furniture moving
Complimentary decorating advice
Easy financing options
Much more!
If you're ready for new carpeting, it's time to give the best place to buy carpet a call.
Want us to call you? Fill out the form on our website and we will contact you right away. We look forward to hearing from you soon.