Who has the best carpet price is the first thing homeowners begin to think about when they want new carpet.
Who wouldn't look at the price first, right? You don't want to break your bank solely for carpet. The Carpet Guys have the best prices available on flooring. Read on to learn more.
Who's got the Best Carpet Price?
Independent flooring businesses usually have the best carpet prices. When doing research, you will often come across articles or conversation threads that suggest never using big box stores.
The reason is, that stores like Home Depot or Lowes often have hidden carpet pricing. The prices for their flooring online often seem too good to be true. You don't know this until the salesperson is writing up the contract and scheduling the installation that the price isn't all-inclusive. The online price is ONLY for each square foot of the flooring. It doesn't include padding, installation, delivery of goods, or floor prep if any is necessary. We also believe it's important to always support local businesses.
The Carpet Guys Advantages
Getting carpet with The Carpet Guys has its advantages. Our carpet buying power exceeds that of many flooring companies because we have a vast warehouse so we can get bulk pricing. Our prices are also all-inclusive. One price for everything, no matter if you have stairs, transitions needed between flooring styles, or want a pad upgrade. We have the ability to work with your budget and give you what you want.
See for yourself with questions we're asked on a daily basis.
FAQ and Answers about Carpet Prices
Q: Do you have cheap carpet I can get installed?
A: All our affordable carpet prices come from top-quality flooring styles and colors. There's no need to forego quality for the price.
Q: How long does it take to have carpet installed?
A: Typically, all carpet installations can be done within a 24-72 hour period. This also depends on the carpet you choose to have installed. If it is a special order flooring, it may take longer to receive the flooring.
Q: Do you offer financing?
A: We sure do! Our carpet financing plan is one of the best available. It allows many homeowners to branch out of their "budget comfort zone" because they have some extra leeway. There is also a plan with no interest if it is paid in a certain amount of time. This plan is nice because it allows customers to use someone else's money for that timeframe.
Q: Do you have good deals on pet-friendly carpeting?
A: Yes! We have many different pet-friendly carpet styles from esteemed manufacturers. The majority of them are spill-proof and specifically pet and kid-friendly. These select carpets are stain and soil-resistant and fall within many budget price points.
Q: Do I have to pay extra for carpet warranty?
A: Manufacturers provide their own warranties on their flooring. Each warranty is different since it depends on the carpet type. We also offer our own lifetime installation warranty with every installation we do. There is no additional charge for either of these carpet or installation warranties.
Q: How can The Carpet Guys give me a better deal than other flooring places?
A: The Carpet Guys have a trusting and respected relationship with many top flooring manufacturers. This means we can fully stock our warehouse with the latest trends and colors in carpeting. We purchase carpets from American manufacturers so we save on the shipping price too.
Q: Can I get a carpet estimate today?
A: Absolutely! Our carpet and flooring estimates are free and done in-home. We have appointments available every day and even on evenings and weekends. If you would prefer to come to our Showroom, we have that too. Come visit us any day 7 am-8 pm.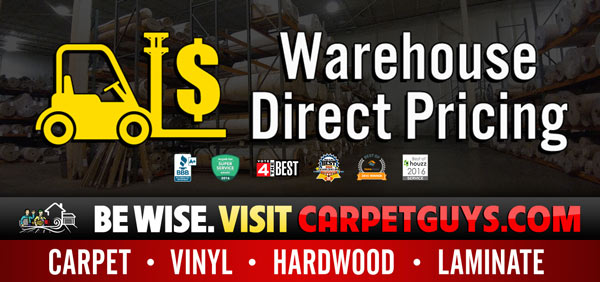 The Carpet Guys are Ready to Serve You the Best Price!
Everything we have is because we work hard. Obviously, local companies are more likely to recognize hard-working individuals like you. Additionally, our prices are fair and competitive. Above all, we love and appreciate all our customers! Call today at 855-4-MY-GUYS (855-469-4897) and become a part of our Carpet Guys family!