Out of all the renovations you can do in your home, selecting the perfect carpet for your rooms can be one of the most difficult decisions to make.
With all the styles, patterns, fiber types, and colors to choose from, you may find yourself in a whirlwind of questions and concerns.
Today, we'll teach you how to pick a carpet color the easiest way possible.
Neutral Carpet Colors
Neutral colored carpet has been and will always be the top selling product in the carpet industry. Since carpeting is something you don't renew on a routine basis, you'll need a carpet color that works with the other colors you incorporate into the room. Neutral colors are perfect for this situation.
The most notable and popular neutral carpet colors consist of:
White
Grey
Beige
Cream
Brown
Since carpeting has become more of a focal point in interior design scheme, a neutral colored carpet will provide the perfect background for almost any other color palettes you include in your rooms.
Exotic Carpet Colors
These colors aren't as popular as your neutral tones, but there are many homeowners that find ways to incorporate crazy carpet colors in their homes.
These colors are some that the average homeowner doesn't really consider like:
A great example of these colors is Weston Hill carpet by Mohawk. With the right design scheme and an open mind, you can find ways to make carpet colors like this fit perfectly into any room.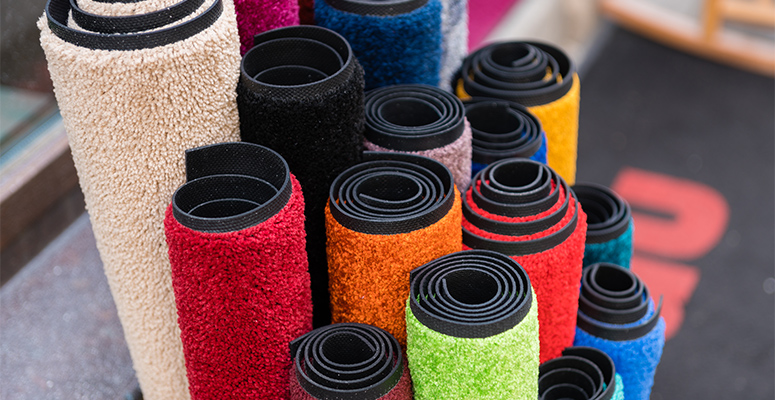 Final Thoughts
One other thing to keep in mind when selecting carpet colors is your lifestyle. If you have more of an active household, a lighter colored carpet may not be the best bet for you. A darker colored carpet will hide any dirt that gets past your vacuum.
This will also apply to you if you own pets. There are, however, pet-friendly carpet options you can look through to aid in any accidents or damage your furry friends can cause.
Most importantly, select a carpet color that you love. You're the one that will be looking at it every day depending on how long it stays in your home.