Both COREtec LVP and RevWood Plus Laminate are fantastic flooring products to have in your home. Both offer a waterproof wood-look flooring that many homeowners across the country demand.
When it comes down to it, you're in good hands choosing either waterproof wood flooring type for your home. But which one is better between the two?
COREtec Luxury Vinyl Plank
For a time, COREtec Luxury Vinyl was the nation's most demanded flooring type on the market. Although it may not be real wood, it mimics the look and feel of natural hardwood perfectly.
With COREtec, you don't have to sacrifice beauty for functionality. All COREtec products are strikingly beautiful and will last under heavy foot-traffic and water exposure. It also resists scratches from pets and furniture legs.
The only issue you'll run into with COREtec is the prices. Depending on the product you choose, prices can get a little high. If you're on a strict budget, this may not be the best selection for you.
Aside from that, investing in COREtec LVP is a great decision, especially if you're looking for a wood-look floor that will last.
Mohawk RevWood Laminate
Designed to make homeowners rethink wood floor functionality, RevWood Laminate is a new waterproof product that looks like it's here to stay. Any customer with pets, young children, and an active lifestyle will find that RevWood is a perfect flooring type for them.
RevWood sports high scratch resistance, dent resistance, and a complete waterproof installation. Just like COREtec, RevWood Plus is a beautiful wood-look floor with great functionality as well.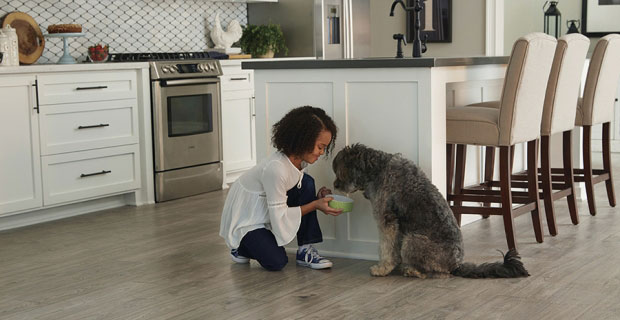 The one thing that RevWood beats COREtec in is the price. Mohawk's Revolutionary Wood is more budget-friendly, so homeowners have been slowly flocking to this product over other waterproof woods.
RevWood is a great flooring product that will last long and look great in any home.
Which One Wins?
In all honesty, it's a little hard to say. Besides the price comparison, both flooring products offer complete waterproof results and fantastic functionality and aesthetics.  At the end of the day, it all depends on what product you want to have installed.
If you want to see some samples of these flooring types in your home, we'll bring them to you over a free in-home estimate today. Give us a call when you're ready.