Just like trends in fashion, trends in home furnishings also ebb-and-flow. Whether it's because of the Summer Olympic Games coming or because it goes so well with this year's Pantone Color of the Year, going for the gold is what's new in flooring trends.
This year's Pantone color of the year for 2020 is Classic Blue.  When choosing to decorate with this beautiful, cool color, it's important to find ways to bring warmth back into the room.  One of the easiest ways to do this is by adding a warm-toned flooring like gold.  Gold flooring doesn't have to mean a mustard-yellow shag carpet.  There are plenty of warm-toned, neutral ranges that will blend with any décor.
Gold Carpet

Here are some great warm gold, neutral carpet colors that will go with your blue accent-wall. 
If you're not using the new classic blue, and have more neutral, cool grays or beiges, they will complement these warmer toned floors.
Gold flooring can come in lights and darks or even add a sense of texture. Choose a carpet that has a blend of colors and it will help hide dirt and wear-and-tear.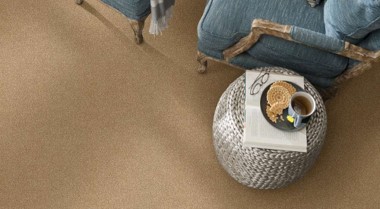 Gold Hard Surface Flooring
If carpet isn't what you're looking for, there are plenty of hard surface options to be found in these rich gold tones.  Check out some of these options to bring in some warmth.
Gold in Sheet Vinyl
If you want something that looks like tile or stone, instead of wood, here are some sheet vinyl options that utilize the gold coloring in their design.
While you're deciding on which flooring types and colors would be best in your home, we have several blogs to help guide you in this process.  In addition, we have professionally trained Design Consultants that can come to your home and answer your questions.  They will bring samples of whatever color you prefer so you can see the flooring in your own lighting and next to your furniture.  The Carpet Guys provide all this free of charge to our customers.  Be Wise!  Let The Carpet Guys help you find the perfect gold flooring trends for your rooms, at 855-4-MY-GUYS (855-469-4897) or fill out our Free In-Home Estimate form and we can provide you with a consultation weekdays, weekends and even evenings.