VOC's are found in many products we use on a regular basis. From hairspray to paint, this Volatile Organic Compound smell doesn't linger for long.
It can also be found in a lot of flooring products too, and it's not the best for your health.
There is, however, a saving grace in the flooring industry, and its low VOC carpet.
The Benefits of Low VOC Carpet
Of all the flooring options available, new carpet installation has the lowest VOC emission. With non-VOC carpet, you won't have to worry about issues arising with:
Breathing Problems (Asthma, COPD, etc.)
Odors and musty scents
Fatigue
Allergy irritation
After you have new carpet installed, ventilating the room(s) after a new carpet installation is highly recommended. This will help force out any toxic fumes.
VOCs usually dissipate on their own within 24-48 hours. Airing out the area will speed up the process.
Carpet Brands Low In VOC
"Green" carpeting hasn't' been on the market long. Mohawk Carpet, as well as Shaw Carpet, both offer low VOC carpet adhesive and products. These leading manufacturers produce some of the best (and health beneficial) flooring in the industry. Protecting yourself and your family is important after all.
At The Carpet Guys, we handpick our products. This ensures that everyone is getting quality and top grade carpet and flooring. Some manufacturers offer certifications with their carpeting, confirming a healthy indoor living environment.
Maintaining a Healthy Carpet
It is assumed carpeting causes allergies and other respiratory health issues.  In fact, that is just the opposite. Carpet traps irritants like dust, dander, and other bacteria in its fibers. This keeps them from circulating in the air.
With regular vacuuming and proper carpet maintenance, these culprits are extracted, providing better air quality throughout. Regular vacuuming also helps remove what little VOCs are in the carpeting. It is crucial to have your carpet cleaned every 12-18 months, as it is recommended by carpet manufacturers.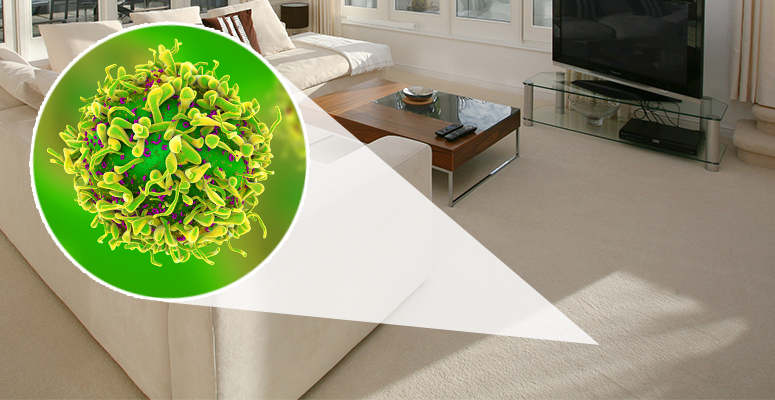 Not only does this preserve the longevity of carpeting, but also keeps it healthy. A professional carpet cleaning is always encouraged by manufacturers to maintain carpet warranty.
Why have Low VOC Carpet Installed?
Carpeting is most commonly found in homes today. In fact, this style of flooring accounts for 70% of residential installations. They provide better traction for movement and are soft and cozy.
If you are looking to have carpet installed, The Carpet Guys offer a huge selection. We can help you choose the perfect style of carpeting that meets your needs. We specialize in many different manufacturers and types of carpet, so you can count on our expertise.
We believe in healthy living and proudly offer homeowners many eco-friendly, low VOC carpet products. Give us a call to book your free in-home carpet estimate now!