One of the most exciting (and stressful) aspects of buying new carpet is choosing the right carpet colors for your room(s).
Since carpet is more of a focal point nowadays, selecting the right color of carpet can make or break your room's design scheme.
The Carpet Guys are here to help you make the right selection.
Consider your Carpet Color Options
Buying new carpet can be as exciting as it can be challenging, so take careful consideration of these factors before making a decision:
What style of carpet do you like?

What is the current color scheme of your room(s)?

Will the room(s) experience a heavy amount of foot traffic?
Does the area experience a good amount of sunlight?
Choosing the right carpet colors and styles will need to line up with the answers to the questions above.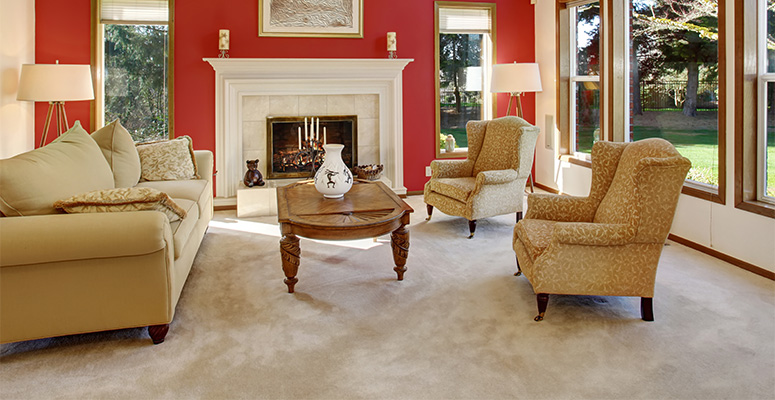 Choose a color based on your lifestyle and the level of activity in your home. Many homeowners with kids or pets tend to stick to an earth-toned color-flecked product like Mohawk Calliope II Carpet. This helps hide any stains or soiling that happen accidentally and provides great durability in heavy traffic areas.
Neutral colored carpets are the best selling colors in the industry. They blend very well with any home's color and decor and are good for resale. Almost all DreamWeaver carpet colors are neutral shades and tones.
Stepping out of the box with carpet colors is always fun, so be sure to choose something you won't get sick of. Whether you want to go with a neutral color or explore the bolder side with examples like our Sorrento Carpet, select something that screams YOU.
Matching Carpet Colors with Painted Walls
Excited to renovate, homeowners will often paint rooms before picking out carpeting. Choosing a color for carpet installation should compliment the newly painted living space. You want the palette to flow together, either blend or make a statement.
For example, if your walls are dark, opt for a color-flecked or lighter shade of carpeting. Too much of the same shade emits no character at all. Play with colors and see what works with your home's style and decor.
If you love hues of the color green, there is nothing wrong with doing two or three shades (including carpet). Go for medium green walls with a dark green accent wall. Install a beautiful light, beige-green carpet and decorate with teals and yellows.
Take a look at Pantone's Color of the Year for some green inspiration.
Get the Best Carpet Color with The Carpet Guys!
The Carpet Guys offer complimentary home-interior design advice with every new carpet installation. We guarantee you'll find the best carpet color for your rooms with us.
Be sure to ask about this service when booking your free in-home carpet estimate today!