Can you get new carpet while pregnant? Just like every pregnancy is different, every person is different. When I was pregnant, both times, everyone gave me "advice". Some of it was helpful and others…didn't apply to me. The Carpet Guys want to bring you all the information you need to make a good decision for you and your family.
Flooring and VOC's
Almost all home products and furnishings have VOC's (volatile organic compounds). VOC's are chemicals emitted as a gas into the air we breathe (check out this information from the EPA.gov). That new rocking chair, the new paint in the nursery, even the pillow you bought to prop up the baby while you feed them contain chemicals. Often, even when something is labeled as a natural fiber, stringent government regulations require most things to be fire retardant. This chemical process, to make your all-cotton curtains safer in a fire, give off VOC's.
New flooring, including carpet, have VOC's. The majority of flooring's VOC's dissipate in the first 48-72 hours. Some products, like engineered hardwood, luxury vinyl, and laminate, have smaller amounts of VOC's than roll products like carpet or sheet vinyl. This is because most of the chemicals have off-gassed during their manufacturing process. Roll products are manufactured, then immediately shrink-wrapped for shipping, which traps the gases inside.
Carpet manufacturing standards have evolved immensely over time. Concerns with health and the environment at large have forced our government to regulate with tougher requirements. Reports indicate that carpet emissions of volatile organic compounds, are below recommended levels; meaning that carpets are much safer just in the past decade.
Should I Have Flooring Installed Before or After Birth?
Again, every person's household and situation are different. If you just moved into a home where the previous owners had pets, and you can smell it in the flooring, you need new floors! Did you know that pet excrement is considered a biohazard?! No one wants their baby crawling on that. Another reason to have your flooring replaced would be if there has been any water damage. Mold doesn't go away like VOC's do unless it's physically removed. Mold spores in your home can cause several health problems. The Carpet Guys recommend having new floors installed one-month prior to birth.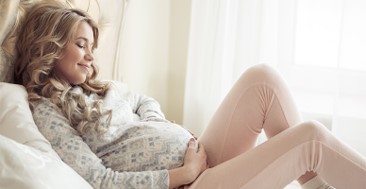 How to Have Carpet Installed While Pregnant
Keep these in mind when installing carpet during pregnancy:
Make sure it's Made-in-America – The United States government has strict EPA standards for chemical off-gassing. The requirements are tougher on American products than for imported products.
Ventilation – Open windows and use fans in the home during and after installation. Create airflow for optimal dissipation. Maybe sleep in a different room for a couple of days.
Have a professional installer – A good flooring service with professional installers will understand your concerns and work within your parameters. Ask if it's possible to have your flooring cut prior to installation. This allows the carpet to be removed from the shrink-wrap and aired out before it's brought into your home.
Make sure it's installed weeks before baby arrives – Since most off-gassing takes place in the first 48-72 hours, have your floors installed AT LEAST that long before your baby arrives.
Wait before returning to those rooms – If possible, stay out of the rooms being installed for about 3 days after installation. Allowing the room to breathe will ensure yours and your family's safety.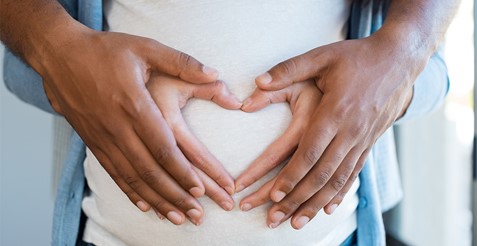 What is the Best Carpet for Health Concerns?
Here at The Carpet Guys, family is everything. With that in mind, we focus on installing carpeting that is healthy for your family, whether they've been born or not. If you're still concerned after doing your research, we recommend using Mohawk's Air-o carpeting. The padding is attached, it's hypoallergenic and VOC-free.
Not only do we carry the ONLY hypoallergenic soft-flooring in the industry, but we also cut all our roll products before they are delivered and can complete most installations in one day. This gives them a chance to off-gas in our warehouse instead of in your home and will give you time to do other things before baby arrives.
If you're interested in having one of our Design Consultants show you all that we have to offer in flooring or VOC-free Air-o carpeting, Be Wise, Call The Carpet Guys at 855-4-MY-GUYS (855-469-4897). Or you can fill out our Free In-Home Estimate form and one of our friendly representatives will give you a call.