Since hardwood flooring is so luxurious (and expensive), it's important to learn how to prevent scratching hardwood floors.
Hardwood flooring is known as the creme of the crop flooring product. No hardwood owner wants their floors to look worn.
Thankfully, there are a few ways to keep your hardwood floors from scratching.
How to Prevent Scratches on Hardwood Floors
Protecting natural solid hardwood flooring from scratches can be done by a couple of methods.
These methods include:
Cleaning the outside of your home
No shoes allowed
Use mats in high traffic areas
Anti-scratch felt pads on furniture legs
Trim your pets claws routinely
Have a floor cleaning routine
Put pads on furniture legs
Learning how to protect hardwood floors from furniture scratches isn't too difficult. All it takes is some slip-on furniture pads (also known as chair glides) for the legs of your couches and chairs.
If you tend to scoot your chair back when leaving the table, that can wreak havoc on your floors over time. Furniture leg pads can reduce the chances of scratching the floors. It will also help you move heavy furniture around the room without tearing up your hardwood. Furniture pads or slides can be found at any hardware store and are very inexpensive.
Trim pets nails
To prevent scratches on hardwood floors from pets, trim their claws. Long nails can do the same damage as a high heel. If pet's nails are still causing damage or a concern, we recommend looking at some high-end laminate flooring. The Carpet Guys carry many scratch and dent resistant styles of laminate flooring options.
Leave shoes at the door
Speaking of high heels, make sure you and your guests take off their shoes at the door. Debris tracked in with the soles of shoes can also scratch wood floors. Plus, who knows what you're bringing into your home on the bottom of your shoes. Also, having a mat at the door will help keep anything brought in from the outside at the entrance of the home. It's also a great place to leave shoes.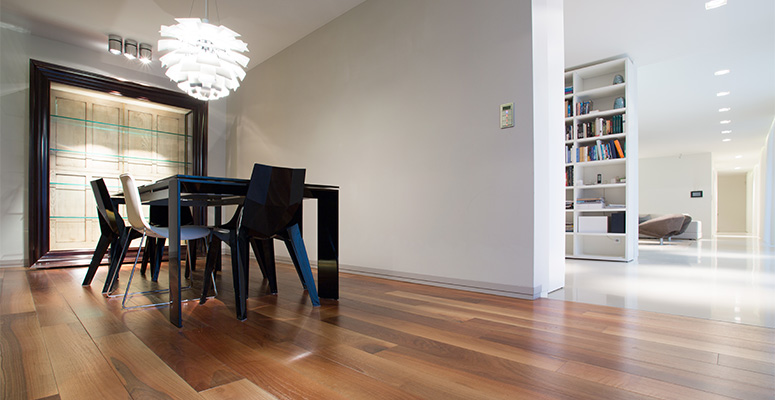 You can prevent scratches on hardwood floors easily with these tips. If you don't have hardwood floors and are interested in purchasing, The Carpet Guys can help.
Book a Free Hardwood Flooring Estimate with Us!
If you're ready to have beautiful hardwood flooring installed in your home, give The Carpet Guys a call at 855-4-MY-GUYS (855-469-4897). Flooring is what we do, and we guarantee you will love all the assistance we offer you.
With The Carpet Guys, you'll benefit from multiple services like:
Stunning variations of high-quality hardwoods
Complimentary decorating advice
Free estimates available seven days a week
Budget-friendly financing plans
Free old flooring rip-up
Free furniture moving
And more!
Book your free hardwood flooring estimate with The Carpet Guys today.
You're going to love the way your rooms look.