Whether you just moved in or have been living there for a while, your current home is where you're staying. It's your forever home.

Since you're there to stay, you want your home to be a place you love walking into and staying in daily. Our point of focus: your forever home floors.
The majority of people who want carpet in there home desire a soft cloud-like carpet. But there are different carpet options for those who'd like to choose another route.
Remember, you want to choose carpet that will last long and look good for a while. You're not going anywhere, so you have to like the carpet you go with.
Let's cover the four main types of carpet and what sets them apart from each other. We guarantee that finding the right carpet will be much easier after you give this a read.
Plush Carpet
If you prefer a soft and luxurious feeling carpet, plush carpet is the perfect option for you.
Plush has a rich velvet-like feel and offers a timeless and elegant look to any room in the home. For those who like to lie down on the floor (we know you're out there), plush is a great choice.
There are different ranges in pile options and softness, so consider your lifestyle when deciding on a plush product.

Frieze Carpet
To give your rooms an off-the-cuff casual flair, frieze carpet is your best friend.
Frieze has a unique twist rate application to its fibers. The higher the twist rate, the more durable the carpeting will be.
Frieze is one of the trendiest carpet styles on the market right now, and it doesn't look like its slowing down. Keep your home trendy for years with frieze.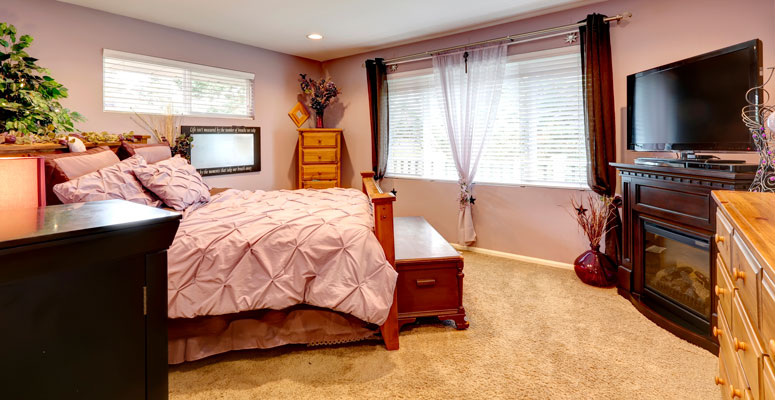 Berber Carpet
A tight-looped berber carpet is going to be great for a home that has heavy traffic throughout the day.
Berber is a durable and hard-wearing carpet that withstands a lot of beating s busy life can dish out. Vacuum marks don't show up on berber as much compared to other styles of carpeting.
If you've got a busy household and a couple of kids running around, berber carpet may be the perfect option for your forever home.

Patterned Carpet
For those who aren't into plain typical styles of carpeting, let your personal design taste shine with patterned carpet.
Major manufacturers like Mohawk floors have create amazing patterned styles of carpeting. From diamonds, to stripes, to odd shapes, you name it.
Install patterned carpet for an interesting feel underfoot and aesthetically pleasing designs.