Believe it or not, stone-look vinyl flooring is one of the most sought-after products available in today's residential flooring marketplace. Homeowners love stone-look vinyl flooring because it provides the appearance of a high-end luxury product at a mere fraction of the cost of the real thing.
Additionally, a stone-look vinyl floor is durable, beautiful, water and UV resistant, and a breeze to clean up so your floors stay looking shiny and beautiful for years to come.
Types of Vinyl Flooring
There are multiple varieties of vinyl flooring available, but sheet vinyl and luxury vinyl plank seem to be the most popular varieties with homeowners throughout the United States. If you're looking for a cost-efficient flooring solution for your kitchen, mudroom, laundry area, or bathroom, choosing sheet vinyl will cost you less money than purchasing a luxury vinyl flooring product will.
Alternatively, when it comes to buying a long-lasting stone-look vinyl-flooring product, nothing beats the durability of a high-quality luxury vinyl plank or luxury vinyl tile. Luxury vinyl flooring is the fastest-growing segment of the residential flooring market. Luxury vinyl products are aesthetically pleasing, durable, and manufactured to withstand the demands of a busy household.
COREtec, a dimensionally stable luxury vinyl product manufactured by Georgia-based US Floors, is 100% waterproof and comes with a lifetime warranty from the manufacturer. Since you can have COREtec installed below grade, US Floor's revolutionary product is a perfect fit for homeowners that want to brighten or reclaim a dreary, underutilized living space in their basement. US Floors manufactures COREtec in stone-look and wood-look varieties so you're sure to find a product that complements your home's existing décor.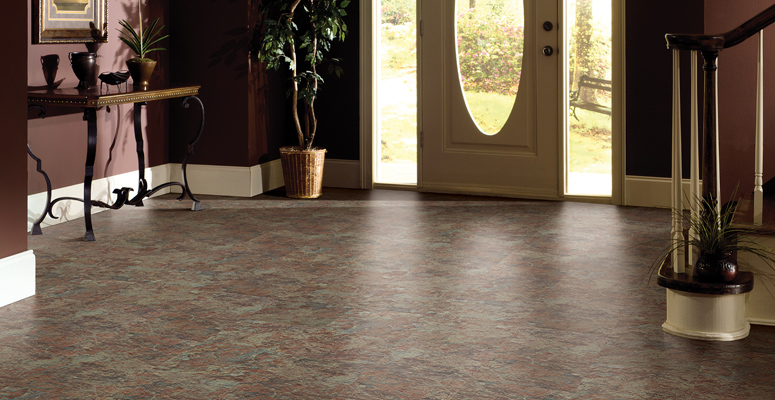 For more information on stone-look vinyl flooring, contact The Carpet Guys today to schedule a free, in-home estimate for one of our flooring professionals. We offer convenient day and evening appointment times seven days a week, so there's no need for you to waste precious hours of your day by driving all over town to find the right flooring for your home improvement project.
You can always count on The Carpet Guys to bring a fantastic selection of flooring in a wide variety of styles and colors directly to your front door so you can peruse our samples in the comfort and privacy of your home, next to your walls and your furniture, and under your home's natural lighting conditions. To schedule your no-obligation vinyl estimate from The Carpet Guys, give us a call at (248) 409-5359.