In recent years, the demand for waterproof wood flooring has created a decent amount of products.
With this large amount of product creation, consumers are starting to ask a very common question:
"Which one should I choose for my home?"
Luckily, your friendly neighborhood Carpet Guys are here to help you out. In this article, we cover four different waterproof flooring products and give you our personal choice of what is best.
Welcome to the "This or That: Waterproof Edition"!
Mohawk RevWood and COREtec
Mohawk RevWood is a waterproof laminate flooring. COREtec by US Floors is a waterproof luxury vinyl plank. We'll list the specs of each that are directly listed on the sample boards so you can compare and contrast.
RevWood –
100% Waterproof (Waterproof Core)
Waterproof perimeter and joint installation
All pet protection, all accidents, all the time
Protective wear layer for added scratch resistance and enhanced long-lasting beauty
Great wood flooring for basements, mudrooms, bathrooms, and kitchens
Laminate wood flooring without compromise
COREtec –
Some of the largest luxury vinyl plank options available
100% waterproof
Beautiful hardwood detail and embossed grain patterns
Can be installed over existing hard surface floors
Hides subfloor imperfections
No acclimation required
Pet-proof, kid proof, and life proof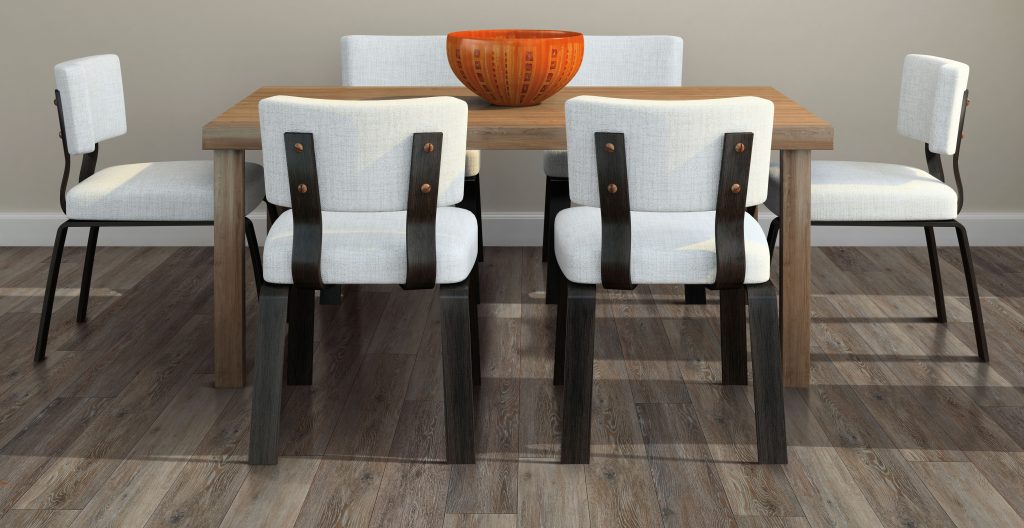 Choosing between these two all comes down to your preference in a product. Both RevWood and COREtec are fantastic wood-look flooring types that excel in performance and beauty.
If you want to know more about these two products, our design consultant will tell you much more about them over a free in-home estimate.
Mohawk SolidTech or Sierra Tahoe Encore
Although these aren't the most demanded products on the line compared to the other two above, they still have a lot of benefits to offer.
SolidTech –
100% Waterproof
Great for basements, bathrooms, kitchens, and mudrooms
Dimensional stability and strong dent resistance
All pet protection
Strong and durable LVP
Multiple color options and style
Also comes in a tile look
Encore –
Fade-resistant
Wear-resistant
Burn-resistant
Stain-resistant
Slip-resistant
100% waterproof
Limited colored LVP
If you're looking for a smorgasbord or color options between these two, SolidTech by Mohawk is definitely the option you should go with. If you're a traditionalist and want to hone in on a select color, Encore is a good choice.
At the end of the day, you want to pick a product that lines up with your lifestyle and your taste in design. Let us know what you'd like to see in your home, and we'll bring it to you.