Laminate is one of the most versatile products in the flooring industry to date. Technological advancements in laminate creation have allowed it to be a perfect fit for any room of the home.
So when it comes to where you can install laminate floors, your options are open to your preference.
What Rooms Should You Put Laminate In?
As we said above, you can put laminate flooring in any room you want, but there are a few practicalities you should consider prior to installing it. We broke down each room and what you should remember below.
A side note before we move on. AC ratings are important to keep in mind when you shop for laminate. The AC Rating (abrasion class) determines how much foot traffic and wear your laminate can withstand. The higher the number, the more durable the laminate.
Also, keep in mind that not all laminates are the same. There are waterproof laminate options that will work in moisture-prone areas and some that will not perform well. Keep this in mind when you consider what laminate you should buy and where you'll place it.
Living & Dining Rooms
If you decide to install laminate in these areas, your main concern will be furniture legs. Although laminate has high scratch-resistance, using furniture pads on your chairs and couches will help keep your floors in good shape. A laminate with a high AC rating will withstand a lot of beatings your furniture can dish out.
Foyers, Entrances, & Basements
These areas experience a lot of moisture, especially during a good ol' Michigan winter. A waterproof laminate like Antique Craft RevWood from Mohawk will work well in this case. If you prefer another laminate, consider using area rugs or wet mats for added protection.
Offices & Dens
For those of you who work from home, placing laminate in your office can create a comfortable and clean space to get some business done. If you've got a wheeled computer chair, place a rug underneath it to avoid wearing out specific spots in your floor. Once again, a high AC rating will help.
Kitchens & Bathrooms
Installing wood flooring in these areas have become a trend lately, but natural wood is not a good choice to go with. A quality laminate floor will work great in these areas, especially the waterproof options. Do your best to keep water from pooling on the floor and clean up any spills that occur to keep your laminate spick and span.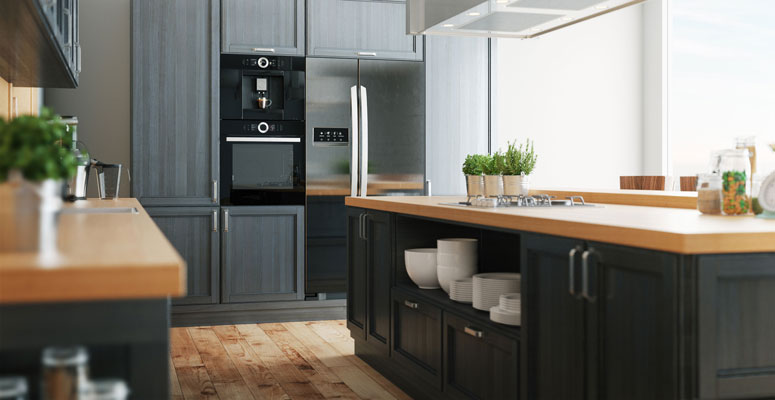 If you'd like to see some quality laminate samples under your own roof, schedule a free laminate flooring estimate with The Carpet Guys today. We have truckloads of laminate samples for you to look at and choose from.
All you have to do is call or fill out our web form.