Do I Need Hardwood Refinishing?
When you receive hardwood flooring installation, you are placing the cream of the crop flooring material in your home. Hardwood is known to be the most beautiful of flooring products, giving homes a very natural and elegant look. However, like all good things they start to wear out. This is where hardwood refinishing comes in. It can be the service you need to bring back the look and life to your flooring.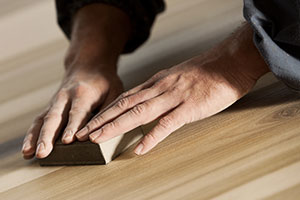 Out of all the things that take a beating in a home, the floors get the worst of it. There are many different factors that can cause the need for hardwood floor refinishing including:
Dragging furniture across the room
Scratches and grooves from heels
The claws of a beloved pet
When your hardwood floors begin to experience grooves, scratches, and cracking, it loses its beautiful look. However, do not jump the gun and get refinishing done when it is not necessary. Some people may do it right when they see the first signs of scratching when it is not necessary. It can actually do more harm if you do not need it. You do not want the grain pattern sanded away.
The best way to figure out if you need hardwood refinishing is to take a close look at the floor. Check if any of the boards have split or if there are some deep grooves and long scratches. If your flooring is just experiencing a light finish fade or minor scratches, you can get away with a light screening.
"
Hardwood Flooring At Its Finest
Sometimes, a good refinishing just cannot get the job done. This may mean that you need to get new hardwood floors installed. To receive the best discount hardwood flooring, give us a call. We only provide top of the line products to our customers, and we are confident that you will love your floors for years to come.