Sometimes, life can get a little bit messy. Because of the hustle and bustle, we go through on a daily basis, there never seems to be enough time to get our home in shape. The Carpet Guys would like to pass some helpful organizing tips on to you.
No matter what area of the home you are organizing and what size it is, we believe there is a way to make it a well-organized space. Take a look at what The Carpet Guys consider the top eight organizing tips: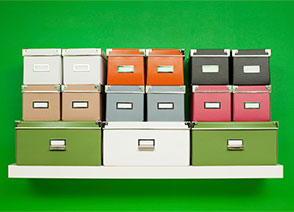 Start Small and Take Your Time
1. Always start in one place. Don't look at the whole problem. To begin, break it into smaller chunks. After you complete one area, move on to the next.
2. Take your time organizing. Certainly, you don't have to get the whole house organized in one day! If you dedicate a couple of hours a day to the job, then you can set some time aside to relax.
3. After you have organized one room, take a look at the contents of the room. If you find some things that aren't used anymore, then sell them in a yard sale or donate them. As a result, you will open up some space.
4. We suggest taking advantage of doors by adding hanging net shelves on them. Alternatively, we suggest using over-the-door hooks or baskets. First, it will allow storage of shoes and other items. Second, it will open up some much-needed space.
5. Organize with color. If you are going to organize and possibly add shelves or other items, then have them correlate with the colors of the room. For example: if your office is green and red, then use green office supplies so they coordinate with your decor. Or, make green folders the "completed" folders and red the "Need to Process" folders. It will coordinate with purpose.
Make Organized Items Highly Visible
6. Visibility is a key factor in organizing. Because of this, the best containers are transparent. These will enable easy labeling and identification. If you can see the items clearly, then it will save you a lot of time when you need to retrieve items.
7. Make sure to keep your items easily accessible. For instance, keep the items that you use most on the lower shelves and the less important items on the higher shelves.
8. Be flexible and select storage systems that can adapt to any changes. As a result, you can reconfigure and reuse the system for any organizing problems you may face.
Sometimes, the toughest part of organizing is getting started. However, if you let The Carpet Guys replace your old, worn-out flooring, then it will spark a new light. First, we will refresh your space, then your desire to organize will increase. Please call 855-4-MY-GUYS (855-469-4897) or Fill out our Free In-Home Estimate form. From here on out, our top eight organizing tips will get your home spruced up. Now, you can enjoy your well-organized, efficient space for years to come.