When trying to figure out what is foot traffic, it's important to pay attention to what activities happen in your household daily. We aren't talking about marketing or sales foot traffic. We also don't mean the kind of traffic that happens on your morning commute or in a shopping mall. The Carpet Guys can help you figure out if you have light, medium, or heavy foot traffic and how this will affect your flooring. Read on to find out more.
Who is in Your Home on a Regular Basis?
The first step to figuring out what kind of foot traffic your household has, you need to establish who is in your home regularly. Here is a list in order of the members that do the least damage to the most: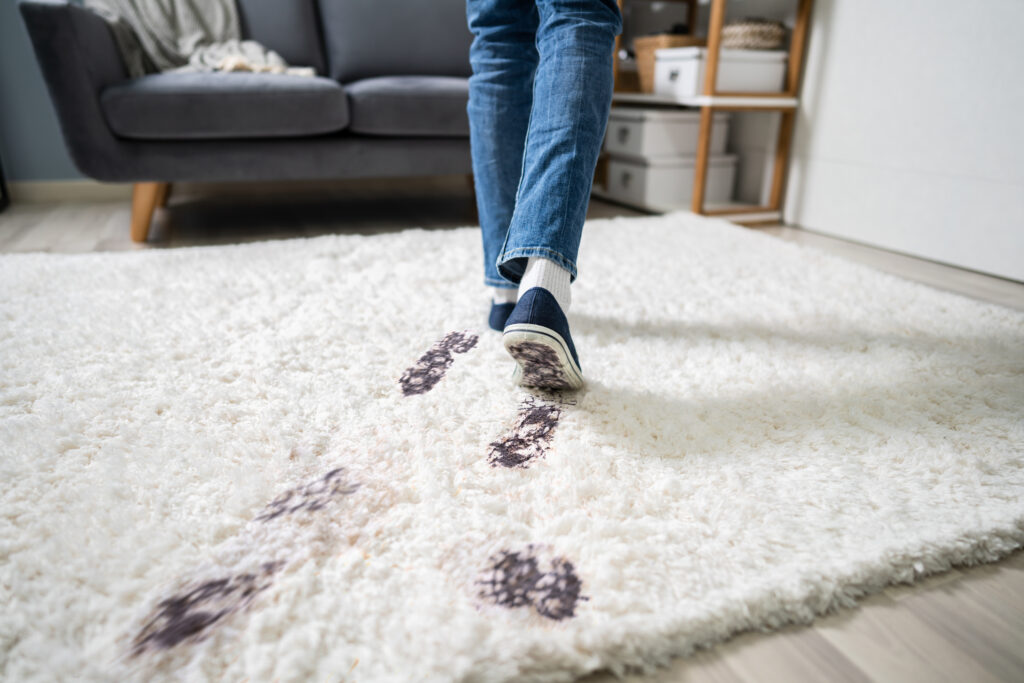 Healthy adults
Children or grandchildren between the ages of 2-12
Teenagers
Disabled family (using canes, walkers, or wheelchairs)
Pets
The more family members you have moving across your floors, the greater damage they will do over time. People using devices for assistance, like a walker or wheelchair will also wear the carpet considerably. Even someone using a cane because they often shuffle their feet as they walk. This causes carpet fibers to lay flat and look matted and worn.
How Often do You Clean?
If you're vacuuming once a week, that's perfect according to the Carpet & Rug Institute's carpet care instructions. If it's necessary to vacuum more than once a week due to children or pets, that also wears down the carpet over time. Equally as bad, is not vacuuming at all. The dirt and particles get ground into the flooring and cause matting and wear faster.
Also, professional cleaning is required approximately once every 18 months. If you are steam cleaning your carpet more often or not at all, it causes the same amount of deterioration over time.
How Many Square Feet?
The amount of square footage your home has is also an important factor. If you have a large home with spacious rooms, it spreads the wear-and-tear over a larger area. It will take longer for a family of 4 to matte down the carpet in a 2500 square foot home than in a 1500 square foot home.
All these factors go into play when trying to figure out if you have low, medium, or high foot traffic in your home. If you have low foot traffic, your flooring, no matter the style, will maintain its beauty for a longer period. If your home has high foot traffic, you may want to consider hard surface floorings like wood or laminate. If you have your heart set on carpet, The Carpet Guys recommend a low pile, dense style that won't mat as easily. Berber is also a wonderful carpet that won't show damage or dirt as quickly as other types of flooring. We also suggest you use a high-quality cushion under your carpet to help absorb the footfalls.
If you're not sure what you want, call The Carpet Guys at 855-4-MY-GUYS (855-469-4897) and one of our knowledgeable Design Consultants will help you figure out what will be practical for your home and work within your budget at no additional cost to you. If you want to set up a Free In-Home Estimate with the Design Consultant, check out our scheduling link here.