If you're wondering why do floors creak, we can help.  It doesn't matter if you have carpet, hardwood or vinyl, all floors may creak at some point.  There are a few reasons why this happens.  We will cover some of them here.  Read on to find out more.
Old Hard Surface Flooring
It is expected to hear creaks when walking on century old hardwood flooring.  Over time, hard surface flooring expands and shrinks with humidity and temperature changes.  This is normal for all things in your home.  When this happens, it creates gaps in the flooring.  These gaps create friction when rubbed together.  That rubbing together happens when someone walks across a floor.  The difference in weight placed on one or two boards causes them to move into the space of another board and thus, creaking.  This process happens faster in environments that have drastic temperature and climate changes within a short period of time.  For example, some northern regions of the United States have cold winters and hot, humid summers.  Or further south, where hurricanes and tropical storms cause severe humidity increases that will cause boards to expand.
Sub-Floor Issues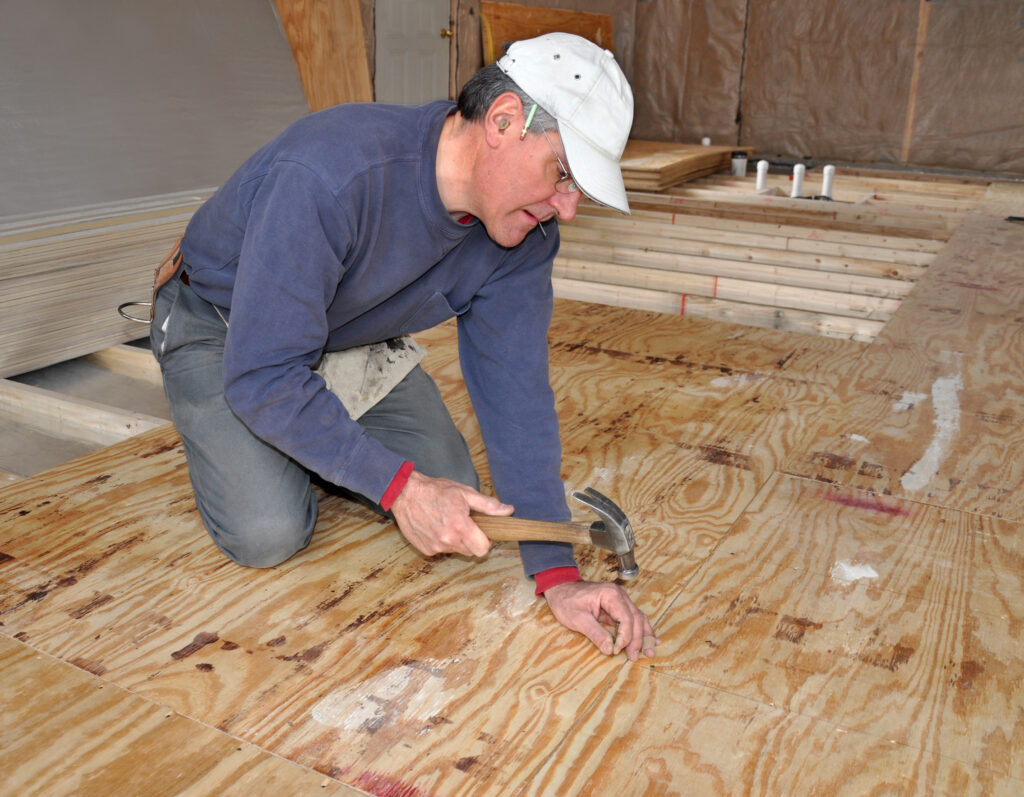 Just like discussed above, those environmental changes also affect the sub-floor.  The sub-floor is ordinarily made from plywood.  Plywood is a manufactured product where thin layers of wood veneer are glued together while alternating the direction of the grain of wood with each layer.  This allows for strength and stability as a base layer.  The flooring of choice sits on top of this layer of plywood.  When temperature or humidity levels change, this can warp the plywood.  As the plywood warps one way, and the top layers of flooring warp another, it causes gaps between the layers.  When pressure is put on that gap, the rubbing of the 2 layers causes floor creaking.  Unfortunately, over time, this constant friction can deteriorate the sub-floor.
Poor Construction
One of the least common reasons for a floor that creaks is because of poor construction. During the rough construction phase of a home, the sub-floor is screwed into floor joists. This anchors the plywood to the "bones" of the home. The flooring will sit on top of this sub-floor. If someone misses the joist when screwing from above, that portion of the sub-floor may not be properly adhered to the joist and will cause squeaking. If the screw goes in at an angle and catches only a portion of the joist, that screw will become loose with the expansion and contraction of the joist wood and will also be a catalyst for creaking. This is especially prevalent in new homes with floor creaks.
Whether you need to replace old flooring or have your sub-floor checked, The Carpet Guys have qualified professional installers that can help.  Our teams are experienced in all sorts of creaking floor corrections.  If you're looking for some quick fixes, check out our blog How to Fix Squeaky Floors.  Otherwise, call 855-4-MY-GUYS (855-469-4897) or go online to set up a Free In-Home Estimate.  One of our knowledgeable Design Consultants will come to your home and assess your flooring needs. Make sure to tell them you want floor creaks corrected so they can put it on your contract.